Learning Centre
Everything you need to know about our hydromulch applications and the services we provide
Pricing Your Job
Select from a range of Treatments and Plans to get an estimate
Quality Spray-on Grass Solutions
Revegetation Services you can rely on in NSW & SE QLD
We have over 30 years of experience in quality revegetation and spray grass services.  Located near Newcastle NSW, we deliver projects all over NSW & SE QLD.  We cover large to small jobs such as highways, sub-divisions and residential.
Why Should You Choose us?
We have built trust with our clients by offering the information and support they need to see their project through to completion.
We have a saying, 'Do it Once, Do it Right'.
If you take on our advice and expertise, we can tailor the application to your site to provide faster germination and long-term grass growth.
Our Services
We can provide Advice, Hydroseeding, Hydromulching, Bonded Fibre matrix, Compost Blankets, Mechanical Seeding and Straw Mulching services to suit your site's needs. Visit our learning centre for more information.
How You Can Save on Cost
A simple soil test can save thousands of dollars in repeat application costs.
Most civil construction sites do not have ideal topsoil, which leads to the grass that grows yellowing off and dying, and ultimately costly reworks. A soil test ensures you have the right application for the site.
After 35 years we have seen this time and time again where the cheaper option doesn't always save you money in the long run. Check out our content or have a chat to our experts for friendly advice on how to choose the right application for your site.
View our Extensive Learning Hub
A comprehensive series of articles, blogs, videos and case studies
How do we do What we Do
Learn more about how we got to be the best in the business
View a Video Showcase
Learn more about our Treatments, Plans and Methods
Compare our Equipment
Learn how we have developed proprietory machinery
Advice, Services and Professional Approach

Since I first engaged Valley Hydramulch and Revegetation (VHR) on a project in the Hunter Valley in 1978 while employed by Keller Civil Engineers in Newcastle and the Hunter Valley, I had a long and fruitful association with them in general civil engineering construction projects both large and small , until I took up a new position with ARTC on major rail developments and upgrades in Newcastle and Hunter Valley.
I continued my association with them during my time with ARTC and often took advantage of their advice, services and professional approach on revegetation of various projects in Newcastle and the Hunter Valley.
They provided a complete service from submission of tenders through to producing results which required no rectification works at practical completion enabling timely completion of the various projects.
Their suite of applications which established vegetation even on poor quality soils and also provided erosion protection without the need for maintenance watering until natural rainfall resulted in the development of the desired cover of permanent grasses for permanent erosion control resulted in significant cost savings and establishment of complete cover of long-term permanent grasses without the need for rectification at practical completion or maintenance works during Defects Liability Periods.

Greg Cavanagh

ARTC

Compost Blanket Sustainability

Whilst employed by InLink on the construction of the Inland Rail Upgrade as the Senior
Project Engineer and Earthworks Lead for over a distance of 100 km between Parkes in
Narromine in NSW, I continued my association with Valley Hydramulch and Revegetation
which started in 2016 on a major freeway upgrade on the north coast of New South Wales.

When I arrived on the project, VHR had just been selected to carry out the revegetation
works and I became involved with them in their process to determine the best application for
the site considering site restraints including quality of available soils, client requirements for
revegetation, management of supply and delivery of revegetation materials all along the
hundred kilometre alignment, providing design mix applications to various stages along the
hundred kilometre alignment where works were not linearly continuous and involved
significant travel distances and re-establishment between application areas during site visits.
The capability of their Compost Blanket applications to provide service erosion control during
extended dry periods enhanced project sustainability as maintenance watering to
germination and permanent growth was not required as the quantities of water required
was simply not available along the alignment.

The total area treated with complete conformance to our works program and client
requirements was for 2,300,000 sq. m of their nominated compost blanket applications to
the complete satisfaction of the client without any rectification works being required for
Project Practical Completion or ongoing maintenance.

Their professional advice, established investigation and design processes, their compliance
with the InLink Works Program, Site Management and WHS requirements assisted in timely
completion of that section of the Inland Rail Development Project.

Nathan Bourne

Compost Blanket Development

I first used the services provided by Valley Hydramulch and Revegetation (VHR). following my appointment as Operations Manager of Robson Civil Projects Newcastle and Hunter Valley Operation in 2005.

VHR provided a comprehensive service where they considered the tender documents supplied for a project, advised on and priced alternative applications at tender time and then, for successful tenders provided a site investigation and application design process which conformed to Job Specification Requirements and was site-specific as their process included soil sampling and testing to determine the suitability of available site soils for the revegetation process.
Our clients, generally, accepted VHR's recommendations and the works progressed to a successful conclusion to the full satisfaction of all parties involved.
VHR participated in all aspects of our site management process, especially in regard to OHS, Site Induction and Plant Approval requirements on Mine Sites and significant Civil Engineering Projects during and after my time as RCP General Manager.
When I took up a new position as general manager of Goldsprings in 2016 we continued the association VHR already had with Goldsprings and their performance up to the present time has been the same as was experienced at RCP.
VHR have always provided a complete and professional Revegetation Service based on their extensive knowledge of the revegetation process, best practice methods and their soil science expertise to ensure that soil chemistry and microbiology shortcomings were addressed and rejuvenated for best long-term results.
We participated in their development of their range of Light and Heavy Compost Blankets which were appreciated, in particular by our mining clients due to significant cost savings achieved due to the blanket's ability to remain intact and provide surface erosion protection during long dry periods and develop full germination and long-term grass cover once sufficient rainfall was received.

The successful development & application of the Compost Blanket has seen this product become the default revegetation specification for most Hunter Valley & Eastern State major projects.

Martin Burridge

Safety and Reliability

Robson Civil Projects have engaged the services of Valley Hydromulch & Revegetation over the past few years on various mining and civil projects with most recently being the Murragamba Dam project for Moolarben Coal in Ulan NSW. These works consisted of 61056m2 of revegetation.
During this project Valley Hydromulch & Revegetation set a high standard and commitment towards safety and environmental practises on site, always followed site policies and procedures and were very willing to participate in safety discussions.

Jody Rae

No Need for Maintenance Watering

Golding utilised Valley Hydramulch & Revegetation during the period we were undertaking around 50Ha of clearing and mulching works between Iluka and Devils Pulpit. Due to the environmentally sensitive conditions, it was important to establish grass cover as soon as possible after clearing. Topsoil testing revealed high acidity, low nutrient levels and poor quality generally. Valley were able to include the necessary nutrients, with the required seed mix, and without the need for maintenance watering their work resulted in consistent grass cover being established very quickly. Golding was very satisfied with the work undertaken by Valley Hydramulch & Revegetation

Martin Brears

Trusted Working Partners

We first came across the guys from Valley Hydramulch back in 2011 when we had a requirement to seed and revegetate over 40,000m2 next door to an existing residential subdivision. As these works were to happen in our windy months we knew dust was going to be a problem for the existing residents surrounding our subdivision and we needed something to cover the loose material and get a quick strike. Paul Clarke from Valley happened to be in the area at the time and offered to come in and take a look at our site and provide advice. His expertise in soil knowledge provided the best mix for our application and within a day our site was covered and safe from nuisance dust. These guys have been a valuable pool of knowledge providing advice on spraying native seed mix to general subdivision mix as well as supplying dust suppression to sites over the X-mas shutdown period. No job has been to big or to small and our working relationship continues to be a success through our shared vision of client satisfaction. Their knowledge of specific applications needed for any particular site creates a level of confidence and trust that is invaluable to our company.

James Newton

J Newton Civil Construction
Are you trying to choose between standard and ameliorated hydromulch? Here are the differences between them. Keep reading to find out what ingredients are used in each application and how they will benefit your site.
Read More »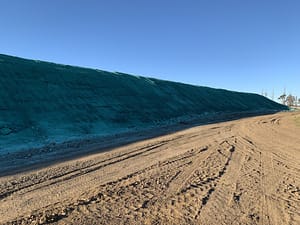 By the end of this article, you will be able to identify whether you need a compost blanket and why your site could benefit from using one.
Read More »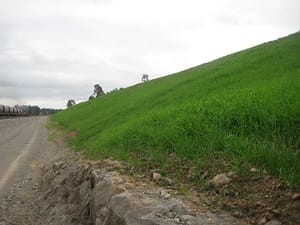 The following article compares the different Hydraulically Applied Growth Mediums (hydromulch) currently available on the market and outlines the ingredients necessary for successful long-term results.
Read More »
Valley Hydramulch & Revegetation offer a variety of comprehensive Erosion Control and Revegetation Services