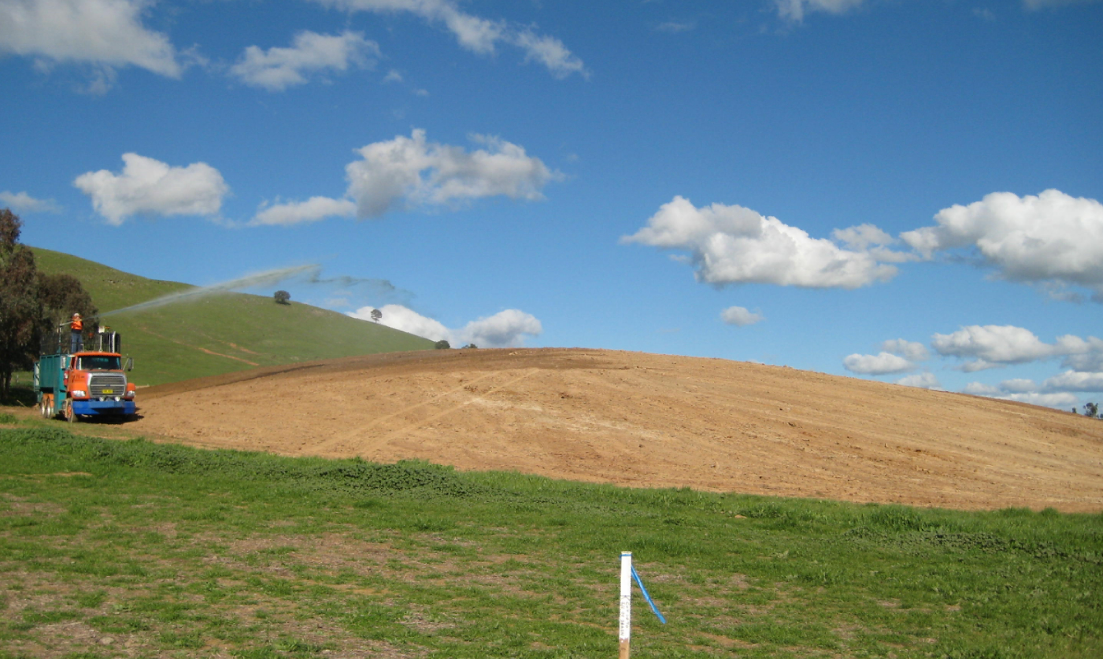 Hydroseeding
Description
The spreading of a seed and fertilizer slurry using a specially built Hydroseeding Unit. This unit incorporates the seed and fertilizer in a slurry mixture with water, and then sprays the slurry on the area to be treated via a high pressure pump system.
Suitability
Hydroseeding  is not usually used as a revegetation operation on its own, but is usually combined with Straw Mulching (see below) to provide a more vigorous growth potential.
If Hydroseeding is used as a one-step operation, the method is suitable in the same areas as for Seed Drilling, with the added benefit of being suitable for the spreading of native seeds in the slurry, due to the more complete mixing of the seed and hydraulic application. Slopes up to 1V:4H can be treated with this method, however on steeper slopes the likelihood of the seed and fertilizer being washed off during heavy rainfall is high.
Expected Growth
Growth can be slow, and is dependent upon local rainfall and weather conditions, together with the quality of the prepared seed bed.
There is no mulch and binder applied in a hydroseed application. This can result in the loss of application materials in high wind and rainfall event, due to the lack of a protective medium.
Relative Cost
This option is more expensive than tractor seeding, but is able to incorporate native seed, and is also able to treat steeper slopes. We believe these benefits outweigh the minor extra costs.
Contact Us
Our team at Valley Hydramulch and Revegetation are more than happy to talk with you if you have absolutely any enquiries about our Hydroseeding process, or would like to learn more about the applications and uses of Hydroseeding. We believe that this can be a truly beneficial and helpful way to revegetate and prevent erosion in all kinds of agricultural processes and applications.
Give us a call on 02 4988 6111.