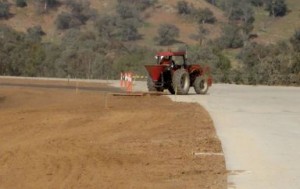 Description
Mechanical Seeding (Seed drilling or Vicon sowing) consists of the mechanical spreading of a seed and fertilizer mix using an agricultural tractor and either a drill seeding implement, or vicon spreader, used in conjunction with harrows to cover the seed.
Suitability
This method of seeding is usually used on large, relatively flat areas that have been
disturbed during the course of the construction works.
This method is suitable for spreading of cover crops and minimal seed mixes, but is not suitable for the application of native seed or complex seed mixes due to the variability of the seed application.
Slopes of up to 1V:4H can be treated using this method. Followup maintenance watering will provide a better growth rate.
Expected Growth
Growth can be slow, and is dependant upon local rainfall and followup watering.
Relative Cost
This is the lowest cost method for revegetation.