Let us help you to succeed with Soil Testing
Understanding the soil conditions and tailoring the application to your site will ensure a better outcome for your project.
Soil Testing can help you decide which application is best suited for your site conditions. This involves conducting a soil test of the material whether that is during new or rectification works.
We use Sydney Environmental Soils Laboratory (SESL) who are an accredited company for your assessment. SESL will provide a report and explain if there is any need for the addition of various fertilisers and ameliorants according to the results in what is present in the site tested soils. These soil deficiencies will affect the outcome of your application if they are not addressed during the initial assessment.
We use the information gathered from testing to tailor the mix to your site. This provides the best chance for successful germination, growth and the desired revegetation outcome.
INVESTING IN SOIL TESTING
There is a common misconception that soil testing is purely a mechanism by which costs can be increased without improving results. However, the money 'saved' by not investing in soil analysis is spent many times over in longterm rectification and management after the works have been completed.
EFFECTIVE SOIL PREPARATION
Another important part of the process is to ensure good surface preparation is carried out prior to spraying the application. This ensures the best possible result is achieved. 
In 2005, we developed a process which has always proven effective when our recommendations are followed. We engineered specialised batter chains with ripping bars fixed at 450mm centres, which are utilised in two stages:
The chains are used to lightly scarify the subgrade prior to the placement of topsoil. After several passes, the chains produce a loose soil bed with horizontal furrows that has been keyed into the subgrade.
They are then used again to spread the topsoil layer to an average thickness of 50-100mm.
AMELIORATED APPLICATIONS
Our ameliorated applications include organic and inorganic fertilisers, microfine lime, microfine gypsum and AS4454 screened compost. When a fine organic compost is included in the mix, the microbiological action of the compost penetrates the soil profile with the other ameliorants, releasing the soil nutrients and improving uptake of these nutrients in the plant roots. As this process results in the rejuvenation of the soil chemistry and microbiology, it is not time-limited and so provides long-term nutrition for the developing plants.
Whilst unseen, soil microbiology is an essential consideration for successful revegetation. Soil microbes break down organic matter, recycle nutrients, create humus and soil structure, fix nitrogen, promote plant growth and control pests and diseases.
OUR PROMISE TO YOU
Working with some of Australia's most reputable soil laboratories (SESL), we have developed a proven methodology that delivers cost-effective, long-term solutions to your revegetation and erosion control challenges.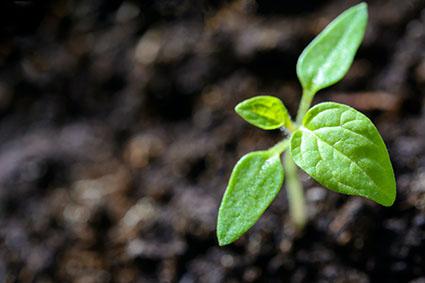 Choose the right application for your site
Are you trying to decide which application will work best for your site? Answer 5 simple questions to find out.
Pricing
Our Costing Calculator offers specific pricing for our Applications.
Book a Meeting with a VHR Team Member
We are happy to chat with you and answer any questions you may have, to help you find the right solution for your site.