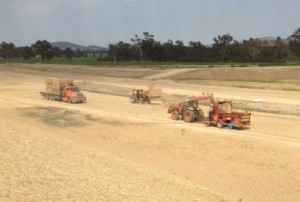 Description
The spreading of a straw mulch over areas previously seeded using the Hydroseed method. The straw is then coated with a slow-setting anionic bitumen emulsion to adhere the straw fibres together and to stop the straw being blown away in light winds.
Suitability
The use of this application is usually restricted to cooler climates, where the straw bank acts more as an insulation during frosts, rather than erosion control.
Superior erosion control can be achieved with good surface preparation in conjunction with 'site-specific' ameliorated Compost Blanket Applications.
Expected Growth
Results to date have shown that straw mulch provides minimal successful coverage in comparison to compost blanket applications.
Relative Cost
This is a more expensive method of revegetation than for Hydramulch, due to the inclusion of the straw mulch and bitumen emulsion.