What Is Hydromulching?
How To Choose The Right Hydromulch For Your Site

Are you under pressure to find the most cost-effective revegetation solution? Feeling stressed from researching hydromulch and having little to no clue how it works to achieve the results you want? Don't worry, we are going to break it down for you so that you can understand how hydromulching can be used effectively. For the past 40 years, we have built up our expertise in the revegetation industry as a trusted supplier with the knowledge to help you choose the right application for your site. Giving you the power to make more informed decisions on your next project.
What is Hydromulching?
Hydromulching is the application of seed, fertiliser, wood fibre, and binder combined with water into a green slurry mixture, using a specially built Hydromulching Unit. This slurry mixture is then sprayed onto the area to be treated, either out of a cannon or hand-held hose, via a high-pressure pump system. This forms a protective medium on the surface, holding the seed in place and is the most common application used on civil construction sites. Our Hydromulching solutions provide effective erosion control, soil stabilisation and seed protection from wind and rain. Learn more about our hydromulch services.
How does it work?
Wood fibre is used to provide a bulking agent for the slurry mix and provides a thin layer of mulch to help retain moisture. This increases the organic carbon in the soil and helps to promote seed germination. The binder causes the individual wood fibres to adhere together and form a protective layer, shielding it from wind and rain erosion. It also binds the fibre and seed to the soil, holding it in place even in heavy rainfall. The fertiliser provides the nutrients necessary for the seeds to grow. Different additives can be added to the mix if the site soil is deficient. Once Rainfall is received the seeds will begin germinating.
What is it used for?
Hydromulch is recommended for a range of different terrains, varying from flat surfaces to slopes. Such applications can provide instant coverage, preventing erosion associated with rainfall events. Sites with uneven or steep and highly erosive slopes that have experienced soil disruption due to mining, construction or infrastructure works would benefit from using a site-specific hydromulch application such as a Heavy compost Blanket.
What are the key considerations for a successful hydromulching project?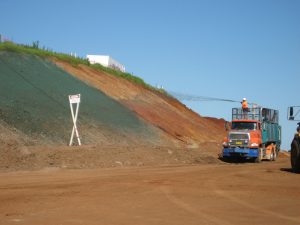 When considering a hydromulching project, it is important to factor in all the environmental and seasonal variables that can affect the outcome. Rainfall, temperature and soil composition all play an integral role in how successful a rehabilitation program is – this also includes the selection of suitable seed species.
Soil testing is an essential part of all revegetation projects; this process looks closely at the soil characteristics to determine any imbalances that could affect vegetation growth. Depending on your project location, climatic conditions should be taken into consideration as rainfall is a significant factor in success rates.
How is it applied evenly?
We use cranes to mechanically load ingredients onto our trucks to reduce manual labour and time spent on site. The ingredients are then mixed in our trucks and constantly agitated by powerful mixers to provide even coverage over your site. We use custom-built hydramulchers to hydraulically apply the mix out of a canon or hand-held hose depending on the access and size of the area.
How do I choose a hydromulch application that is right for me?
Step 1: Check the Specification
Choose an application that satisfies your client's specifications and performance expectations. Then decide on what you need to do to get client acceptance.
Step 2: Choose the most Economical Application
This is not always the cheapest. Focus on which application is suitable for the site, addresses re-works and maintenance, meets your client's expectations, and achieves sign-off.
Step 3: Choose the Right Contractor
Choosing the wrong subcontractor could end up in a poor result for your site. It's not always easy knowing who to trust but there is a simple method of finding a reliable subcontractor who has your best interests. All you have to do is ask your subcontractor for a mix breakdown. Now you can easily check that the correct weights of materials are being applied, along with confirmation of the rates per hectare of the various materials and the amount of area covered in each load. This will ensure you find someone who gives you value for money and produces the result you require.
How do I know my subcontractor has my best interests for my site?
You should expect that the subcontractor will:
Give you written confirmation of the ingredients being used in the application.
Advise you on what your responsibilities are post-application for a good result.
Give you a timeline of what you should expect and confirmation of what process would be adopted in the event of a dispute.
These items are usually included in a basic subcontract agreement and can be filled out by both parties. If you are uneasy about the arrangements and have doubts that you are going to get the results you want, you should seek independent expert advice prior to the work being carried out to avoid lengthy litigation post-completion.
How do I know that the application will produce the result I want?
If you are not an expert in the industry you can either do your own research or rely on 'expert advice' to obtain the results you require. You should always ask to see references and details of similar completed works over a long period of time with large variations in areas treated and climatic conditions.
The applications and their processes should conform with some industry standard specification so that best practice methods can be adopted. Care should be exercised when the information presented relates more to the short-term application process showing a green dyed surface immediately after application rather than long-term results showing dense perennial growth after several years. Need more information? Check out R178 Specification.
Why do I need Soil Testing?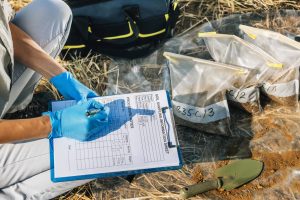 Soil Testing can help you decide which application is best suited for your site conditions. This involves conducting a soil test of the material whether that is during new, or rectification works. We use a NATA accredited soil laboratory (SESL) to test the soil at your request and depending on the condition of the natural soil profile, ameliorates like lime, gypsum and organic compost may need to be added to the mix if the soil is lacking in nutrients. These additional ingredients will provide the required sustenance needed for successful plant growth and increase seed strike rates. It's your choice whether to add these ingredients to the mix but we always recommend a tailored solution to get the most successful outcome.
How to decide between standard and ameliorated hydromulch?
In our 40 years of experience, a common practice we have seen is contractors factoring in long-term rectification and management costs as an inevitable part of their projects. We have repeatedly seen standard applications, which use cheaper, less reliable methods fail to meet practical completion without re-works. This doesn't have to be the case if you use an ameliorated application, which is tailored to your site. A couple of extra dollars spent upfront will save you money in the long run not having to complete re-works. The upfront cost of an ameliorated hydromulch application is typically more expensive due to the inclusion of the extra additives (lime, gypsum and compost), which allow for faster germination and long-term growth. Learn more by reading this article: Comparing Hydromulch.
Is there any ongoing maintenance?
Our hydromulch applications do not require any maintenance watering as all you have to do is simply wait for rainfall. Weeds are inevitable, as they are blown in from adjacent crops. Therefore, the best option is to sow annual and perennial seeds which will out-compete the weed seeds.
What type of seed is required?
Depending on the season and result required will determine the type of seed used.
Annual grasses like jap millet are sown in the warmer months, while ryecorn and oats are sown in the cooler months. It is an acceptable practice to sow a combination of both types of grasses in between seasons. These grasses establish quickly and help to stabilise the soil. They typically sprout in five days, take 45 days to germinate and hay off in 2-3 months.
Perennial grasses like couch, kikuyu and perennial rye are used along with annuals to maintain cover in the short term while natives germinate. They also help to out-compete weeds and reduce soil erosion.
Native shrubs and trees like eucalypts and wattles are often planted, along with kangaroo, weeping and wallaby grass, which will grow in the long term and do not need to be re-sown.
How long will it take for the grass to grow?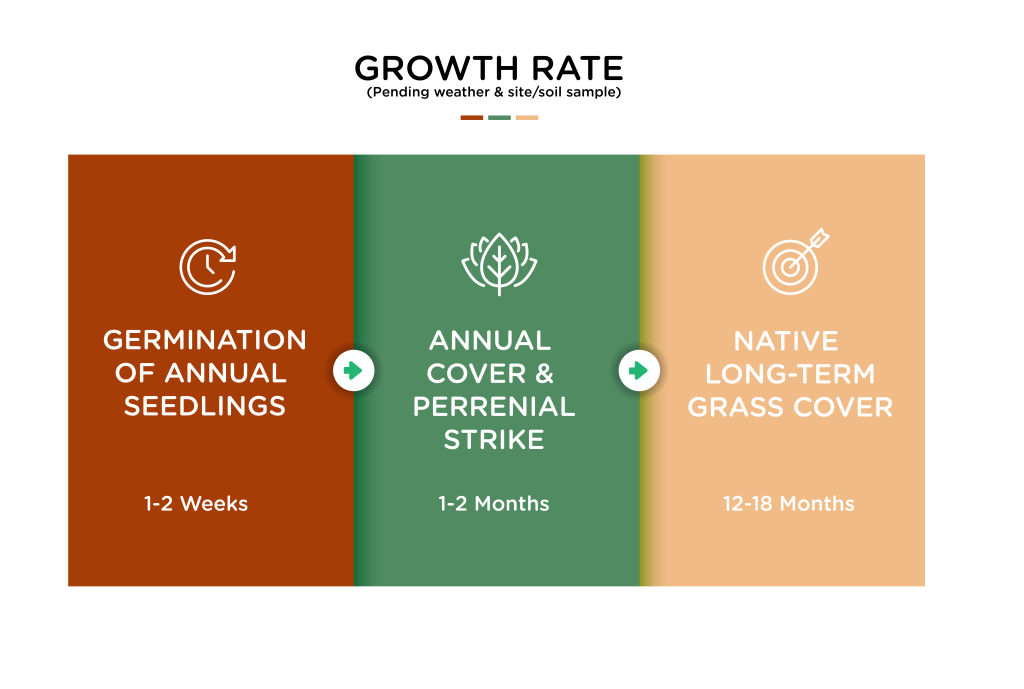 Seed germination depends on weather conditions such as rainfall, sunlight and temperature, along with the amount of fertiliser present in the soil or incorporated into the mix. Carrying out adequate surface preparation will also help to achieve a successful result.
Signs of annual growth should occur within 1-2 weeks, with annual cover and perennial strike occurring around 1-2 months. While native, long-term grass cover will become evident in 12-18 months.
Why is hydromulch green?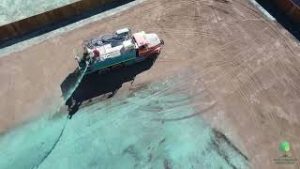 Most hydromulch applications include a non-toxic green dye, which is simply added so that we can see where the product has been sprayed.
If you require further information or wish to get a quote, then one of our friendly team will be happy to chat with you. Contact Us