Hydraulically Applied Growth Mediums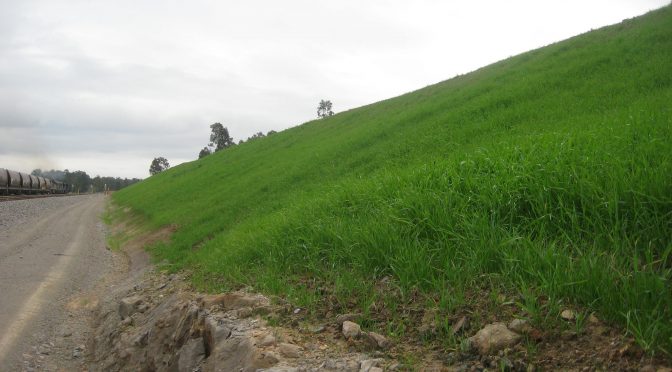 The following article compares the different Hydraulically Applied Growth Mediums (HAGM) currently available on the market and outlines the ingredients necessary for successful long-term results.
What is the Key to a Successful Result?
You might be a small business owner or project manager who is researching Hydraulically Applied Growth Mediums (HAGM), and immediately find that there are many different types of HAGMs available on the market. But how can you be sure that the application you choose for your revegetation project will produce the results you want? Your site may be left with an inferior application, which simply yellows off and dies, failing to produce the results you wanted. 
This is because not all applications are the same, some of which do not contain the necessary ingredients for long-term growth. With over 30 years of experience in the industry, we have seen clients make the same mistakes time and time again. This is often due to misinformation or a lack of understanding of the product. 
We don't want to see this happen to you. That's why at Valley Hydramulch & Revegetation (VHR), we care about your project and will do everything we can to help you choose the right solution for your site. We develop your mix based on tried and tested applications that have proven success rates across varying conditions. 
By the end of this article, you will be able to tell the difference between the ingredients used in currently available HAGMs. And also realise which ones are crucial to the effectiveness of the application in achieving long-term results. With the information in this article, you will be able to choose the right application for your site.
Keep reading to find out what the necessary ingredients in HAGMs are.
Necessary Ingredients in Hydraulically Applied Growth Mediums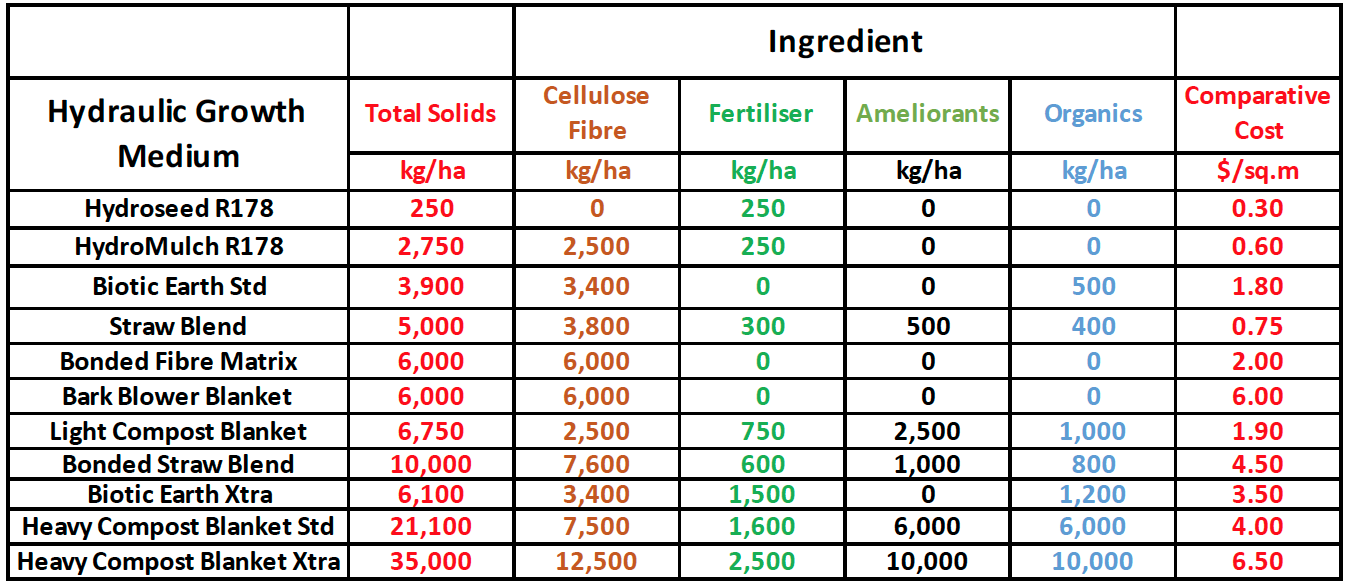 What this table tells us is that the more solids content an application has, the more likely it is to contain the necessary ingredients, which are needed for successful long-term plant growth and seed germination. 
Take Heavy Compost Blanket Xtra for example, it has a high total solids content, which is made up of a good amount of ameliorants, organics and cellulose fibre, along with a heavy amount of fertiliser. You can see it is the most expensive application in the table but if you compare it to the Bark Blower Blanket, you will see that it is only 50cents more. Also, the Bark Blower Blanket does not contain any of the necessary ingredients for sustainable growth. 
This is an important point as even if an application has a heavy cellulose fibre content, it does not mean that the application will be successful. The effectiveness of the application depends on the type of fibre being used, along with the amount of fertiliser, ameliorants and organics added to the mix.
What's in my Application?
It's important to ask yourself this question as it can help you steer clear of applications, which are wrong for your site, saving you money on costly reworks. 
The easiest way to choose the right application for your site is by completing a soil test, which will tell you exactly what your soil needs. This offers the best chance for successful long-term results but you need to be wary of some of the applications on the market, which claim to provide long-term results. Not all applications are the same and it has to do with the ingredients they use.
You might have heard of other suppliers using ingredients in Liquid form in their HAGMs contrary to specification requirements that all ingredients are to be Solids. We understand this is done to save money but this practise should be avoided. Liquid forms are usually only intended for plants, which have already begun to grow. We support the industry standard practice of using Solid ingredients based on successful results obtained over the last 30 years.
The following charts outline the ingredients from the previous table to make it easier for you to compare the total solids content with the ingredients used in each application: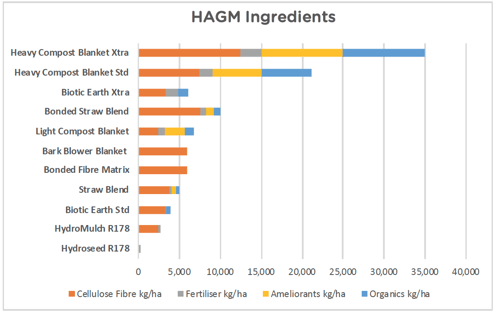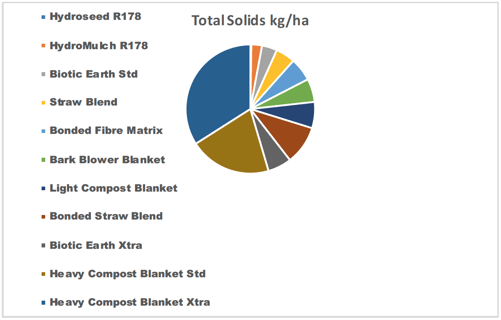 The Facts behind Hydraulically Applied Growth Mediums' Ingredients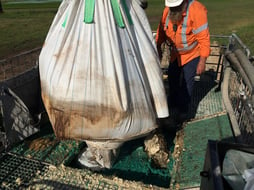 Not all applications include the full range of Nutrients, Ameliorants and Organics to satisfy site soil test recommendations.
A variety of cellulose fibre types are used in different applications. The coarser forms of cellulose fibre, compared to the finely shredded Pinus Radiata wood fibre, are mainly for erosion control and do not contribute to plant development. 
Some suppliers recommend that site soil testing be conducted to determine whether additional site applications are required prior to the application of their HAGM.
Due to "commercial in confidence" considerations, most suppliers do not provide a full fertiliser, ameliorant and organic analysis, with full identification of the various ingredients. This would enable the determination of which additional ingredients would have to be applied in a separate application, to satisfy site soil test results and recommendations.
SDS's are either not supplied, supplied as in-house documents, or do not provide any details or risks in the use of the confidential ingredients.
The quantity of cellulose fibre used in the applications is based on the bagged weight, which includes various fertilisers, ameliorants, additives, organics and binders. When these are taken into account, they can reduce the actual amount of cellulose fibre being applied by up to 30% resulting in non-conformance with specification requirements.
The coarser forms of cellulose fibre when used on steep batters usually have a qualification that meshing of the fibre onto the batter should be carried out to avoid wash off in heavy rain.
Various types of binders are nominated, and binders used must be re-wettable to be biodegradable. Non-rewettable binders with heavy cellulose fibre applications form an impervious surface. This prevents ingress of rainfall to the soil surface, which retards or prohibits germination.
Site Soil Management For Successful Results
For a successful result you want to make sure you have the following:
A loose topsoil layer with horizontal furrows. 
This will enable water storage at depth and resist erosion.
Ameliorated site soils to site soil testing and application design recommendations.
And a Seed mix, which is suitable for site locality and fit for purpose.
Summary of key points:
Watering of applications to germination is not practical on large sites.
The Solids content for fertilisers, ameliorants and organics is what is important to promote germination and long-term development. Not a heavy cellulose fibre based application. 
Liquid ameliorants and fertilisers are not approved for use in current industry standard specifications.     
HAGMs need to be considered in light of what is proven effective over many years, based on current practices in soil chemistry and microbiology, as applicable to long-term rehabilitation works.
5 Fundamentals For Long-Term Results

What this table tells us is that there are five fundamental requirements for successful long-term revegetation:
Provide an adequate seedbed for your site by properly preparing the soil prior to application.
Provide the correct amount of nutrition for your soil by using additives in your application.
Choose suitable seeds for your mix to produce the desired result. For example, adding natives for long-term development, along with annuals and perennials for short-term cover.
Getting enough moisture through rainfall or additional maintenance watering on your site. Most ameliorated applications do not require maintenance watering and can survive droughts.
And finally, obtaining enough sunlight, which cannot be controlled due to the fluctuations in the weather. However, you can try to plan ahead by planting the right seeds for the coming seasons.
For more information check out our Learning Centre.
Planning Ahead: What Can Go Wrong?
A successful result cannot be obtained with an off-the-shelf premixed one-off application without additional applications prior to addressing the deficiencies in the site soils. Unfortunately, we have seen this occur on numerous projects over the years, which has resulted in the contractor incurring substantial additional costs to obtain practical completion. Or the client accepting works, which require rectification (not maintenance works), for acceptable long-term results.
Due to inadequacies in current specifications and a lack of documented long-term success of available applications, clients often place their reliance on flume test results, rather than long-term results on completed projects when choosing a suitable application.
How Can We Help?
At VHR, we can provide independent certification of our established processes and documented details of compliant results at practical completion, and longer-term vegetation establishment. We can assist you with the following:
Progressive rehabilitation
Site soil testing 
Site-specific application design
Site sustainability
Low maintenance requirements
Long term nutrient availability
If you have any questions feel free to give us a call or send us an email and one of our friendly team will be happy to chat with you and provide any additional information you require. Or you can head over to our Learning Centre and read more of our articles or watch some videos on how it all works.